Pics Above
1. Gated Vineyard Custom Gate Entrance 2. Self-Storage Gate System 3. Fed-Ex Gate Access System
Service & Repair
It's comforting to know someone is always here for you. With Joe's Gate Service you can rest easy knowing we're always just a phone call away. If you ever have a problem with your entry gate for service or repair, we are always here to help. We understand that a malfunctioning system can cost you time and money, that's why we work hard to get your gate system operating as soon as possible.
Maintenance Programs
Monthly, bi-monthly or quarterly. This is to ensures that the system is tested and inspected on a regular basis. We provide written recommendation upon request.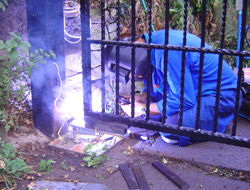 At Joe's Gate Service, there is no "one size fits all" approach. We work closely with your organization or business to tailor a customized security solution that will meet your specific security gate and parking control needs. We are an authorized distributor for Max, Chamberlain along with Viking and recommend these companies based on the superior quality and dependability of their equipment.
System Upgrades
to current industry standard, UL requirement or enhancement of safety devices. Controlling access to your property is the first step to increasing business security. Access control gates and barriers manage vehicle access to your business or industrial area while providing authorized users safe, pleasant and unobtrusive passage. Designed for continuous 24/7 operation in very high traffic situations, our access control systems are durable, easy to use and low-maintenance. They perform flawlessly and look good after many years of intense use. Access control gate features include:
Keypad Access System / Simple or track-able
Radio Systems / Bi-nary, tri-nary, rolling code, individually coded and void able.
Vehicle Detection Systems / Photo electric eyes, in ground loop systems, in ground probes, and smart gate sensors.
Anti-entrapment Devices / Sensing edges, photo eyes, and smart gate sensors and fencing/guards to restrict access to return or other entrapment areas.
Card Systems / Magnetic, touch plate, prox (short and long range), transponder. Many of these can be simple or track-able.
Guest & Tenant Entry Phone Systems / Doorking, Liftmaster, Sentex, Linear, ect.. Many systems can be managed and programmed today with a windows based computer equipped with a modem
Parking Control Systems / In parking lots vehicles come and go all day; you need to ensure the flow goes smoothly, avoiding any unnecessary holdups at all times. Unauthorized access is also a top priority for parking lot owners. And now, you can choose to have your parking lot controlled with or without personnel. Choose from a selection of parking control systems:
Parking Ticket Automation
Revenue Generation Systems
Vehicle Access Gates